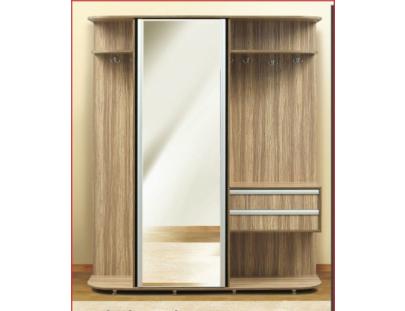 Hall "Toledo-2"
Furniture for the hallway "Toledo-2" stands out among other hallways in that it has a very convenient turning mechanism in the central compartment, which rotates around its axis. On the front side of the central compartment there is a mirror, on the back side there is a metal crossbar for hangers and coat hooks. In the lower part of the hallway there is a drawer with two sections, and a spacious shoe cabinet with four compartments. On the left and right sides are panels with four shelves and coat hooks. Made with high quality chipboard 16 mm. Colors: white, sonoma oak light, sonoma oak truffle, milk oak, dark wenge, alder, walnut, apple tree.
Size Shir / vys / gl: 2040 * 1350 * 740
Specifications
Цвет корпусафасада
белый матовый, белый глянец, дуб сонома светлый, дуб сонома трюфель, белый матовый, белый глянец, дуб молочный, венге темный, орех, ольха, яблоня и многие другие.
Размеры шир/выс/гл
2700/2000/400
Materials